Just in time for National Pizza Day, a new survey by YouGov, a global public opinion and data company, shows that pineapple is one of the most divisive pizza toppings in the country—some of us love it, but more of us hate it.
The YouGov Omnibus data found that 12 percent of Americans who eat pizza say pineapple is one of their top three favorite toppings. People living in western states (including Hawaii) are especially likely to have a preference for pineapple-topped pies. There's a generation gap, too—15 percent of pizza eaters between 18 and 34 are more likely to go for the tropical topping as opposed to 9 percent of Americans age 55 and older.
But 24 percent say pineapple is one of their least favorite toppings. Twenty-eight percent of Northeasterners and 28 percent of people age 55 and older are sour on the sweet fruit slices.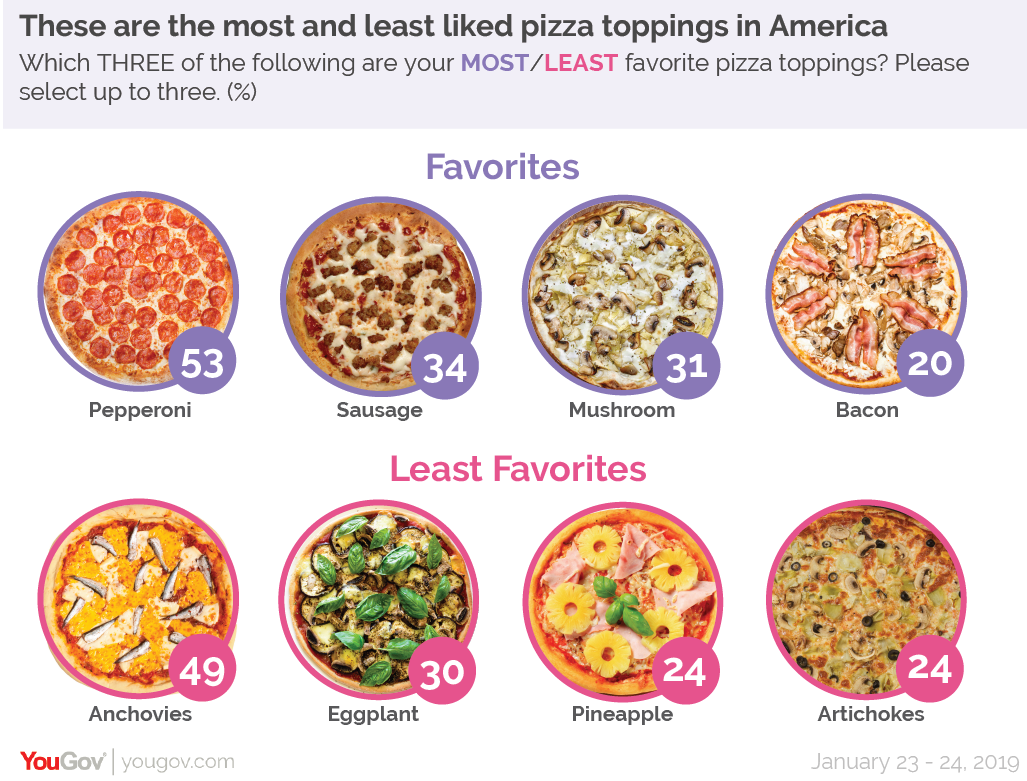 Perhaps not surprisingly, the least in-demand pizza choice is anchovies—49 percent list it as one of their three least favorite toppings, while 2 percent named it as one of their preferred choices. Thirty percent named eggplant as one of their least favorites.
Pepperoni remains the most popular topping, with 53 percent choosing it as one of their three favorites, followed by sausage (34 percent), mushrooms (31 percent), and a tie between bacon and mozzarella (20 percent).
Pizza lovers are split over olives—12 percent say it's one of their favorites while 14 percent rank it among their least favorites. The same goes for chicken, a favorite of 8 percent and a least favorite of 6 percent.
Different regions of the country prefer different crusts, the YouGov survey found. While regular crust is the most popular everywhere (33 percent), it's especially big in the Northeast (42 percent), while thin-crust is more popular in the Midwest (32 percent) and the South (32 percent) than in the Northeast (22 percent) and the West (29 percent).