By Rick Hynum
As we reflect on the past year in the pizza industry, the old Chinese curse, "May you live in interesting times," comes to mind. For the record, there's no evidence that the expression originated in China, but, wherever it came from, it packs a punch. For pizza restaurateurs, these are, indeed, "interesting times." We all thought this crazy pandemic would be over by now—no such luck. Now we're begging people to come work for us. Most customers are happy and grateful to grab a table in your pizzeria once again and order a pie from their favorite servers. But many of those servers have quit and moved on to new jobs—or they're holding out for something different. And if you can find kitchen staff, you can't find ingredients, or you're paying a lot more for them, an added expense that you can either absorb or pass on to your customers, who might get a little peeved about it.
But here's something even more interesting: Despite a slight decline in overall pizza sales this year, average sales per store went up a bit in 2021, for both independents and chains. So, although not everyone survived—the total number of pizza stores went down—the demand for your food is as high as ever. "Nationwide, we have seen an increase of 24% in foot traffic this year to pizza and Italian restaurants, which bodes well for our economy," says Megan Wintersteen, vice president of marketing for Adentro, which specializes in marketing for brick-and-mortar restaurants. "With indoor mask mandates starting to lift, Adentro expects these numbers will continue to increase."
What could be more interesting than that? Moreover, QSR magazine in August hailed "the invincibility of the pizza industry." It noted that pizza "entered 2021 with an energized stride. The category has not only kept pace with its 2020 momentum, but it has accelerated."
The Wide World of Pizza

Pandemic aside, the global pizza market will keep growing in 2022, according to the latest data from Euromonitor International. The worldwide pizza market should total $141.1 billion in sales in 2022, a 6.7% increase, according to Euromonitor's projections. The biggest explosion will happen in Eastern Europe (12.7% growth) and Latin America (12.2%). In North America, where the pizza market is more mature, Euromonitor projects overall sales growth of 5.3% to $56.5 billion. Full-service restaurants should experience a hefty sales jump of 9.7%, reaching $19.3 billion, next year, while limited-service pizza enjoys a 3.3% bump to $37.2 billion.
In other words, the pizza industry is well-positioned for 2022. "After reviewing the past year's data, I keep thinking two words: stability and opportunity," says PMQ publisher Steve Green. "We're down a little, but we're not mired in quicksand. The trends from the beginning of the pandemic up to the end of 2021 show that Americans want comfort and convenience, and they know that's what pizzeria operators deliver."
As for the labor crisis, help is on the way—and that's where things get really interesting. For 2022, some pizzeria operators are considering an option that once felt unthinkable: minimizing the human touch in the pizza making process through automation. As this month's cover image (created by PMQ art director Eric Summers) hints, a bunch of robotics companies—and several pizza chains—from around the world are counting on their Jetsons-style tech to change our industry in dramatic fashion. Will robots soon begin taking over the jobs that people don't want and offset labor costs? We'll get to that in a bit. Meanwhile, take heart: This year's Pizza Power Report demonstrates that pizza is power in the restaurant industry. So let's look at the numbers and count our blessings.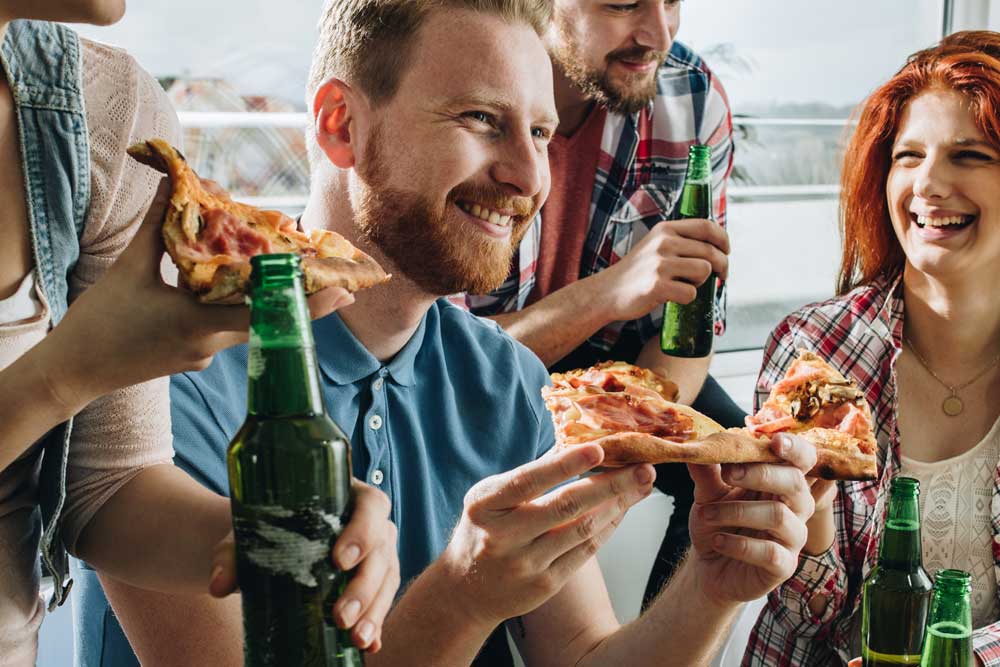 The Numbers Game
We'll just get one thing out of the way now: Yes, according to research firm CHD Expert, total U.S. pizza sales for the period from October 2020 through September 2021 were down by about 1.5%, from $46,247,156,519 the previous year to $45,585,977,842 this year. For independent operators, total sales dropped by 3.75%, from $18,639,852,788 last year to $17,940,959,384 in 2021. The chains enjoyed a tiny bump of 0.14%, up from $27,607,303,732 last year to $27,645,018,457 this year.
The industry's total number of pizzeria locations dipped from 78,092 last year to 75,117 in 2021. On the independent side, we saw a 4.95% drop in store count, from 41,879 stores to 39,808 this year—a loss of 2,071—while chain locations declined by 2.5%, from 36,213 in 2020 to 35,309, or 904 stores shuttered in 2021.
On the plus side, per CHD Expert, average sales per pizza store actually climbed by 2.5% industrywide, from $592,213 last year to $606,866 in 2021. That includes a boost for independents—from $445,088 last year to $450,687 per store in 2021—as well as for chains, from $762,358 to $782,945 per store in 2021.
How has the restaurant industry as a whole fared this year? In a midyear update report issued in September, the National Restaurant Association projected that overall food and beverage sales will total $789 billion in 2021, up 19.7% from 2020. "In the first half of '21," the report states, "restaurant sales were bolstered by rising vaccination numbers, healthy household balance sheets, and consumers' pent-up desire to socialize and dine out."
Related: This food truck operator has made pizza history in Atlanta
The national pizza chains, like Domino's, Pizza Hut and Papa John's, aren't exactly hurting either. However, their growth mostly slowed down in 2021, with Domino's finally breaking its 41-quarter same-store sales growth streak in the third quarter of this year. The country's No. 1 chain saw its same-store sales growth drop by 1.9% in that quarter, due, it said, to labor issues and the COVID-19 Delta variant.
"Looking at the U.S. quarterly year-over-year same-store sales results for the three largest pizza players, we're definitely seeing a slowdown in sales growth through the first three quarters of the year," says Kevin Schimpf, senior manager of industry research for research firm Technomic. "Of course, some of that has to do with tough year-over-year comparisons from 2020, but there's also the effect of consumers having significantly more options for dining out, now that restrictions have eased across the country."
Domino's did booming business once the pandemic hit in 2020, with same-store sales growth of 16.1% in the second quarter of that year, 17.5% in the third quarter and 11.2% in the fourth quarter. In the second quarter of 2021, however, growth began slowing down, with Domino's reporting just a 3.5% increase and moving into minus territory in the third quarter. 
The pandemic seemed to help same-store sales growth for Pizza Hut and Papa John's as well in 2020. Pizza Hut went from a 7% drop in growth in the first quarter of 2020 to a 5% rise by the next quarter, 6% in the third quarter and 8% in the fourth quarter. For the third quarter of 2021, however, its same-store sales growth was only at 2%—still better than Domino's.
The major chain with bragging rights for most dramatic growth is Papa John's. Talk about a comeback! The once-struggling company saw its same-store sales grow 28% in the second quarter of 2020, 23.8% in the third quarter and 13.5% in the last quarter of that year. In the first quarter of 2021, the number rose 26.2% but has since declined, showing a 5.2% gain in the second quarter of this year and 6.9% growth in the third quarter. Still, growth is growth.
What has been the secret to Papa John's success over the past two years? CEO Rob Lynch attributed it to menu innovation, including the roll-out of the Epic Stuffed Crust Pizza last December, as well as a solid loyalty program that has driven higher ticket averages and frequency. Papa John's also inked the largest franchisee development deal in its history with Sun Holdings in October. Sun Holdings will oversee the opening of 100 new Papa John's stores in high-growth markets across Texas by 2029.
But don't weep for Domino's. Still the king of the pizza hill, the chain opened its 18,000th store in the world in July, this one in La Junta, Colorado, and has grown its total global store count by more than 5,100 in the past five years.
Coming Up Short
But who is going to make and serve all that pizza everyone loves so much? American workers have been quitting their jobs in record numbers, according to the U.S. Bureau of Labor Statistics (BLS). Restaurants have taken the hardest hit, with 892,000 employees walking out in August alone. For that month, the restaurant industry's quit rate of 6.8% was the worst in the entire U.S. economy, more than twice the national average of 2.9%.
Of course, "labor shortage"—a term regularly bandied about these days—is a misnomer. There are plenty of workers—they're just avoiding restaurant jobs, due in large part to relatively low wages and lack of benefits. "I don't think there's a shortage of people who want to work in our industry," Michael Lastoria, co-founder and CEO of the Washington, D.C.-based chain, &Pizza, told PMQ earlier this year. "I think there's a shortage of people who are willing to accept the status quo."
In a June-July survey by the National Restaurant Association, 75% of operators said recruiting and retaining employees was their top challenge. In January, that number was only 8%. Some restaurateurs blame the crisis on enhanced unemployment benefits. However, according to a Black Box Workforce Intelligence report in August, "Recent evidence shows that cutting those benefits doesn't significantly reduce the labor shortage."
Billy Manzo, owner of Federal Hill Pizza, with two locations in Rhode Island, sees it differently. "Sorry to say, but politics has a lot to do with this [problem]," he says. "East Coast blue states are paying people to stay home and stay masked, while red states are pushing their economy forward. The other part of it is, people who made our industry their part-time or full-time job have come to the conclusion they can make the same or more money with less stress doing something else. It's just that simple. With all that being said, if you have an employee who's doing a good job, pay them as well as you can while fostering a culture of positivity….You need to build the team."
But do workers even want to join your team? For its Q2 2021 United States Job Market Report, Joblist surveyed 30,000-plus job seekers. A solid 60% of workers, with or without hospitality experience, said they wouldn't consider a hospitality job for their next position. And 58% said they "prefer working in a different setting," while 37% said the pay is too low. Twenty percent cited lack of benefits, and 16% cited lack of scheduling flexibility.
Even worse, 69% of all survey respondents said nothing could change their minds about working in the hospitality industry. Just 26% said higher pay could change their minds, and 14% said it would take increased benefits to lure them in.
This labor crisis "could force restaurant owners to innovate in order to create a better work environment and work flexibility," says Doug Ramsthel, a partner at Burnham Benefits, an employee benefits brokerage and consulting firm in California. "It's unclear what and how these changes would be made, but addressing worker needs in order to attract and retain talent will be more important than simply increasing wages."
The Blackbox Intelligence report offers some clues. It found that 87% of restaurant workers surveyed said they want to earn a set livable wage rather than rely on tips. They also want promotion opportunities, more flexible schedules, health benefits, paid time off, and a better company culture and work environment. Thirty-five percent of hourly restaurant workers and job seekers are parents, the report says, and 18% had to leave their job to take care of their family or kids. For these workers, schedule flexibility is a must.
Fortunately, unlike Joblist's survey, the Blackbox Intelligence survey found that 66% of workers said they would return to the restaurant industry "if the right conditions were met." The report concludes, "This is a moment for restaurant owners and managers to take a look at how they do things and what their staff is up against. By creating a positive work environment and meeting workers' needs, restaurants can reduce turnover and hire top talent in the tightest labor market we've ever seen."
Robots On the Way
But what if workers still don't want to come back in sufficient numbers? Fortunately, there's a solution to every problem, even if, at first glance, it looks scarier than the problem itself. Remember when you firmly believed customers would never order a pizza online? You thought they wanted to talk to you on the phone. Now everyone carries a phone in their pocket or purse, but they let their fingers do the talking.
Digital technology has proven a godsend in terms of order taking. So are automation and robotics the solution to the labor crisis—cute, fat little R2D2s delivering or serving pies, and mechanical arms spreading sauce and sprinkling cheese on a dough skin? Would your customers mind a fresh, hot pizza made by cold, unfeeling metal claws?
One pizza industry leader is ready to find out, PMQ has learned. We can't reveal the details yet, but San Francisco-based xRobotics has inked a deal with one of the country's top pizza chains, boasting thousands of locations around the world. xRobotics' new xPizza Cube (or the Cube, for short) can prep up to 300 pies per hour, including sauce, cheese and pepperoni.The dough crust is placed on a fast-spinning platform; while it spins, dispensers add the toppings to precise proportions, prepping a 16" pepperoni pizza in under 50 seconds. Compact and designed for kitchens with limited space, the machine can be assembled in five minutes in the morning, according to xRobotics, and takes 10 minutes to clean each night.
Best of all: Under xRobotics' Robotics-as-a-Service (RaaS) subscription model, pizzeria operators pay only $1,500 a month. The company estimates a pizzeria with $1 million in sales will save an average of $7,000 monthly with the bot. A restaurant with between $600,000 and $700,000 in annual sales could save $5,000 a month on average. Installation and maintenance are free, and every pizzeria gets two robots for the same price. "The service part is the key," says Alena Tikhova, a former pizzeria owner and xRobotics' current chief marketing officer. "If a robot breaks down and is just sitting there, the owner would be very unhappy. So we always give them two robots. And whenever we upgrade to a new model, the restaurant automatically receives it for the same payment. Once xPizza Cube 2 comes out, they'll get it without having to ask for it."
Video: Watch xRobotics xPizza Cube robot in action
Tikhova says the company has already sold 300 Cubes and is currently taking preorders from other pizza chains and independents.
In August, Picnic, another RaaS innovator, announced the pricing model for its Picnic Pizza System, which helps operators make up to 100 pizzas per hour. Monthly subscription prices for the system range between $3,500 and $5,000, depending on configuration and production volumes. Picnic plans to start shipping its system to pizzeria customers next year. "The continued labor challenge and the low operating margin of foodservice is putting a major squeeze on all types of operators and makes them more amenable to new technology solutions," Picnic CEO Clayton Wood told PMQ back in January. "Since automation can deliver cost-effective, consistent quality, plus predictable timing and increased convenience for the consumer, its adoption is accelerating, and the momentum builds. The consumer still wants what they wanted before—quality, convenience, personalization—and automation of the food preparation process will be the best way to deliver on that need."
Piestro, another leader in pizza automation, struck a deal with the 800 Degrees Pizza chain in August. Outfitted with moving robotic arms and dispensers for sauces and toppings, Piestro's vending machines assemble and bake the pizza in about three minutes. Chef Anthony Carron, founder of 800 Degrees Pizza, has created recipes specifically for the machines, and the chain plans to place 3,600 units in high-traffic locations over the next five years. Piestro also announced a deal with Canadian pizza chain Fast Fired, which will market "Powered by Piestro" machines to its franchisees across the country.
Robots have infiltrated the waitstaff in a few pizzerias, too. Dominic Mannino, owner of East Coast Pizza in Pueblo, Colorado, hired a new robotic food runner earlier this year. Mannino has been short-handed on the floor for much of the year, so Bella, built by Pudu Robotics, arrived just in time. And Bella always has a smile on "her" face, even without actual lips. "It's a great help for the waitresses we have right now," Mannino told Fox News 21 in late September. "It'll greet you, take you to your table and bring the food out to you."
Just punch in the table number for an order, and Bella zips off. The bot can "feel" its way around the restaurant, keep a safe distance from customers and carry dirty dishes back to the kitchen.
Meanwhile, Servi, from Bear Robotics, has been charming guests at Angelo's Palace Pizza in Cumberland, Rhode Island, since the spring. Neither Servi nor Bella can take orders, but they free up human servers to spend more time with the customers. And so far, most guests love them.
Hordes of compact, knee-high delivery bots already swarm American college campuses—and a few cities—around the country. "We saw demand for robot usage just go through the ceiling," Alastair Westgarth, CEO of Starship Technologies, told the Associated Press (AP) in early November. "I think demand was always there, but it was brought forward by the pandemic effect."
Starship now has more than 1,000 delivery robots in its fleet, with hundreds more on the way. They're delivering food, especially pizza, on 20 U.S. campuses, and 25 more will be added soon, the AP reports. Starship's rival, Kiwibot, says it has dispatched 400 robots to college campuses as well as downtown Miami, while Grubhub has deployed 50 robots from Russian tech company Yandex at Ohio State University.
Then there's Pazzi, an automated pizzeria in every sense of the term. Located in Paris, Pazzi opened this year with a storefront sign that reads, "Come for the show. Stay for the pizza." Robots are the stars, pressing out dough skins, spreading sauce, topping the pies and placing them in the oven. The bots can reportedly build, bake and box up to 80 pizzas an hour. "Pazzi" is the plural of the Italian noun meaning "crazy," but co-founders Sebastien Roverso and Cyrill Hamon's goal to build Pazzi into a global chain might not be as cuckoo as it sounds.
The Price We Pay
Until the robots take over, though, running a pizzeria will remain a mostly human enterprise. And since other industries, including processing plants, farms and trucking companies, are facing their own labor problems, food costs keep shooting up, and supplier bottlenecks and shipping delays are kinking up the works. According to the BLS, wholesale food prices in September jumped 12.9% compared to the previous September—the biggest 12-month increase in more than 40 years. In that same month, a survey by the National Restaurant Association found that 95% of restaurant operators had experienced supply delays or shortages of key food or beverage items in recent months. Ninety-one percent said their total food costs (as a percentage of sales) are higher than they were prior to the COVID-19 outbreak.
Restaurant owners hate raising menu prices, but inflationary pressures have given them little choice. A late October report from the U.S. Department of Agriculture (USDA) showed that the Consumer Price Index for "food-away-from-home" (restaurant purchases) in September was 4.7% higher than September 2020. The USDA also estimated those prices would increase between 3% and 4% in 2022.
If you have to raise your menu prices, make sure you explain to your customers why you're doing it—and why the higher price they're paying is worth it, a recent Technomic report advises. "Although consumers are aware that costs in general are rising, transparency about the impact of inflation on the restaurant and refined messages that underscore the value consumers receive through quality or uniqueness of these items can help consumers to justify that increased expense—and make the additional purchase with their order."
At Federal Hill Pizza, menu prices fluctuate from week to week, and customers don't mind. "We examine our pricing weekly based on the rising cost of goods and labor and adjust accordingly," Manzo says. "Some items go up during some weeks, some go back down during some weeks, and some stay the same. Our customers understand what is happening because they see the trend in their own lives. Groceries and gas and the general cost of living are up due to inflation. They realize that, if they go out to eat, prices simply can't be where they were two years ago or a year ago or, in some cases, even a week ago."
Shahpour Nejad, the president and CEO of Pizza Guys, a 70-store pizza chain based in Sacramento, California, says his company has raised menu prices, "but not across the board." He adds, "The increase was not drastic but a small increase. We figured it would not have a big impact on our customers and gives us room to reevaluate next year if needed." His patrons aren't complaining either, he says. "I believe that, since many restaurants, stores, etc. are increasing their prices, our customers are not too shocked that we have slightly increased ours."
Planting the Seeds
Speaking of menus, yours probably has—or soon will have—more vegan items nowadays. Plant-based proteins exploded in 2021, splattering soy and pea protein all over the place. As The NPD Group reported in August, units of plant-based meat substitutes and ingredients shipped to pizzeria operators from foodservice distributors jumped 56% in the second quarter of 2021 compared to a year earlier. According to Datassential, cauliflower wings have grown nearly 1,100% on menus in the past four years, offering an intriguing alternative to the real thing, which keeps getting more and more expensive. Chickens of the world, rejoice! (Sorry, chicken farmers.)
"Plant-based is no longer just a niche player in the foodservice market," says Tim Fires, president of NPD's SupplyTrack service. "It's a mainstream ingredient that appeals to a broad section of consumers. It makes perfect sense that a popular food like pizza would now offer plant-based options."
It definitely makes sense to the chains. They brought a veritable smorgasbord of new vegan pizzas to the masses this summer. MOD Pizza, based in Seattle, unveiled a plant-based Italian sausage—made by Plantly—at all of its 500-plus stores nationwide on August 31. That same month, Chicago-based Sarpino's, with 41 franchised locations, rolled out a pea protein-based pepperoni from Field Roast after unveiling Beyond Chicken Tenders in July. In fact, Sarpino's now offers a full vegan menu at most of its stores, including specialty pizzas, calzones, pastas and sandwiches.
But some of the bigger U.S. chains haven't shown the plant-based market any love (we're looking at you, Domino's), while others don't seem ready to commit just yet. In July, Little Caesars introduced the Planteroni pizza, topped with a plant-based pepperoni from Field Roast but still featuring dairy-based cheese. Pizza Hut, meanwhile, debuted a vegan pepperoni topping from Beyond Meat as a limited-time offer at 70 stores in August, but it came with non-vegan cheese as well.
Related: Stay on top of the latest vegan pizza news at PMQ's sister website, PizzaVegan.com.
Of course, many pizzaioli struggle to find a vegan cheese that offers the right flavor profile with their recipes. Miyoko's Creamery believes it has the solution. The vegan cheese brand this year unveiled a potentially revolutionary liquid vegan mozzarella made with cashew milk. An alternative to the traditional block of vegan cheese, it's pourable and, the company says, delivers a better melt on pizza.
If you want to keep your options open and conduct your own tests, vegan cheeses and meat substitutes are getting easier to find, thanks to fast-growing companies like Daiya Foods, Field Roast, Violife, Numu, Pleese Foods and others. Just know this: If you're thinking of topping a pie with a plant-based meat substitute and regular dairy cheese, vegan consumers will ask why.
Eating in Style (Bonus Website-Only Content)
It only took about 80 years, but Detroit-style pizza has captured Americans' imaginations, and the trend shows no sign of slowing down next year. When a chain like Pizza Hut jumps on board—introducing its own version of the pie in early 2021—you know it must be hot. Although Shawn Randazzo, one of the style's modern-day champions, passed away in December 2020, square fare kept chugging along this year. Pizzerias like Down North Pizza in Philadelphia, Mario's in St. Paul, Minnesota, and Square Pie Guys in San Francisco and Oakland have been spreading the Motor City gospel from east to west.
Related: Square Pie Guy's journey from Instagram to to grand opening
At the same time, Roman-style pizza continues to attract its own fan base with its airy, bubbly focaccia-like crust, creating a fast-growing niche filled by legends like Gabriele Bonci. Pizza al Taglio, Pizza al Palla and pinsa are the most popular variations of the Roman style; there's even a culinary school, the Roman Pizza Academy in Miami, dedicated to it. In the UK, a Roman-style pie created by Francesco Canzani of Mike's Peckham (located in south London) captured the top prize in the kingdom's National Pizza Awards. It featured housemade 'nduja, roasted corno peppers dressed with white balsamic vinegar, pickled jalapenos, sheep's milk ricotta and finocchiona salami.
At Via Roma in Camp Springs, Maryland, owner Biagio Cepollaro is an evangelist for pinsa. As he explained in PMQ's August issue, the amount of water used in pinsa dough is key. "For one kilogram of flour, we add 900 grams of water," he wrote. "This means our dough has a hydration of about 90%, while other pizzas, such as the Neapolitan, do not go higher than a hydration of about 75%."
Due to the pandemic, chicken wings are getting harder to find and afford, but they're flying as high as ever with customers. Some restaurateurs, like Matt Ensero of Wing It On!, have begun to substitute thighs for wings—and just calling them thigh wings, which seems both oxymoronic and smart. As for sauces, hot, barbecue and teriyaki flavors are selling well, along with hot honey blends and dry rubs.
Meanwhile, drizzles are a'sizzle, from balsamic vinegar of Modena and fruit-infused vinegars to the Hot Maple Drizzle (Canadian maple syrup infused with a blend of chilis) created by Blaze Pizza specifically for its Canadian stores as well as popular spicy-sweet concoctions like Mike's Hot Honey.
"Picual olive oil, with its fresh basil and tomato plant aromas, pairs well drizzled over Italian flavors, while Cornicabra works well on pizzas, especially white pies," Adriana Perez, owner of Driana Foods in San Diego, told PMQ back in March. "Its refreshing aromas of arugula and green apple brighten the milder, creamy flavors. As an alternative to balsamic, I like Spanish sherry vinegar."
Ghostly Whispers (Bonus Website-Only Content)
Tired of hearing about ghost kitchens? Get used to it. Even Walmart has horned in on the act, and that should tell you something. The big-box giant opened an "omniversal" foodservice concept at its store in Rochester, New York, this fall, offering takeout meals from national brands like Dickey's Barbecue Pit, Nathan's Famous, Quiznos and many others at a single site.
The aforementioned 800 Degrees Pizza sees ghost kitchens as key to its franchising and expansion strategy. In early October, the chain announced plans to add 500 delivery locations across the world over the next five years in partnership with REEF, a global network with 5,000 virtual "neighborhood kitchens." 800 Degrees opened its first REEF location in Miami in September. This new strategy also means a new type of oven. Instead of the wood-burning type typically used for Neapolitan pizza, the pies for 800 Degrees' ghost kitchens will employ smaller convection-style speed ovens used in Piestro's robotic pizza making machines.
Related: The possibilities and pitfalls of ghost kitchens
Other chains have dipped their toes in the virtual water, too. In April, Round Table Pizza, with 415-plus locations nationwide, launched its first ghost kitchen in Los Angeles. Marco's Pizza and Grimaldi's Pizzeria have been test-driving virtual kitchens since early 2020, working with third-party delivery companies like DoorDash, Uber Eats, Postmates and Grubhub.
In another twist on the model, Phoenix-based Fired Pie opened ghost kitchens at two of its locations in March, but both feature fast-Asian street food from Wow Bao, headquartered in Chicago. Meanwhile, veteran pizzaiolo Gene McWilliams operates three virtual concepts, including a pizza shop, out of Kitchens Unlimited in Effingham, Illinois—but he owns all of them and doesn't use third-party delivery.
Ghost kitchens are tailor-made for consumers who would rather get their food delivered than wait for a table in a busy, crowded restaurant. They're cheaper to open and operate, too. That said, the concept has yet to take a firm hold on the pizza industry. Are ghost kitchens integral to the future of the pizza industry? We don't know yet, but this is a trend we'll keep a close eye on in 2022.
What to Do in '22
Raise your prices if you need to. One of the industry's true wise men, John Arena of Metro Pizza in Las Vegas, told PMQ years ago that pizza restaurateurs should never hesitate to raise their prices to stay in business. "That's the biggest mistake people in our industry make," Arena said in 2017. "They're looking at the competition and saying, 'I have to charge what they charge.' I'm not interested in what the guy down the street is charging. I have to base what I charge on my expenses."
Shahpour Nejad of Pizza Guys agrees. "Don't be afraid to increase pricing," he says. "Customers are understanding, especially during a time when many places are increasing their prices. I recommend not to do a dramatic increase, but a gradual one. That way, customers are not feeling it all at once."
Meet your workers' needs. Tom Feltenstein, the late marketing guru, termed employees as "internal customers." Doug Ramsthel of Burnham Benefits believes you need to figure out what your prospective internal customers need from their job and do your best to offer it. "Is it funding for college tuition, work flexibility, a career path, a fun place to work and a place where they can truly contribute?" he says. "This could be a company cultural change that could help dramatically [with employee retention] before jumping to an increase in pay."
Focus on service. Once you hire new employees, train them well. Andrew Hossom, director of data analytics for Merchant Centric, keeps tabs on customers' complaints and praise about restaurant staffers' dedication, on-the-job demeanor and timeliness (i.e., speedy service). The latest data on pizzeria employees could be better, he says. "Overall, guests' opinions of dedication and demeanor continue to be an issue at pizza restaurants," he warns. "Both wield a strong influence on perceptions of other themes, and continued underperformance will likely constrain improvement in other areas of the dining experience, such as Loyalty & Referral, Food, and Order Accuracy." So drill your new employees not just on the basics of service, but on the social skills that customers expect.
Up your digital and data game. Yes, we keep telling you that, but if you don't believe us, listen to Drew Kellogg and Stacie Colburn Hayes, respectively the CEO and CMO of Massachusetts-based Oath Pizza. "Invest in sustainable digital solutions that optimize your business as it exists today," they say. "The most important would be an easy-to-use direct ordering system (on your company website or app, not a third-party platform) backed by a robust database growth strategy. If you've checked those boxes, make them better and continue to optimize every year. This won't drive immediate results but is imperative to survive and thrive in the future."   
Rick Hynum is PMQ's editor in chief.